FGM is when a female's genitals are deliberately altered or removed for non-medical reasons. It's also known as 'female circumcision' or 'cutting', but has many other names. A child who has faced, or is worried about FGM, might not realise what's happening is wrong.
FGM is carried out for a number of cultural, religious and social reasons. Some families and communities believe that FGM will benefit the girl in some way, such as preparing them for marriage or childbirth.
But FGM is a harmful practice that isn't required by any religion and there are no health benefits of FGM.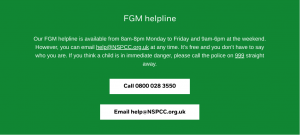 The NSPCC has set up a FGM helpline, which is free, anonymous and 24/7. If you're worried a child is at risk of, or has had, FGM, call the FGM helpline on: 0800 028 3550 or email [email protected].